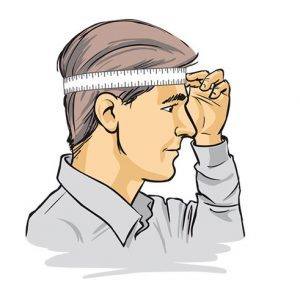 SIZE GUIDE
Every Hufvud hat is made to measure. Your measured head size is important to ensure a great fit. Please make use of this guide and please don't hesitate to ask for further assistance.
Send email to info@hufvud.com
Use a soft ruler to measure your head circumference size at the largest part of your head, one fingers width above your ears. Just let the ruler simply rest on your head, not too tight or too lose. The measurement provided in your order can be either in inches or cm. Please do not add or deduct anything from your direct measurement. Past owned hats are not a good reference for a perfect fit from a custom made Hufvud hat.
-
Tip: Looking straight into a mirror and letting the ends of the soft ruler meet at your forehead makes it easier to read the specific size.